Secure Order Form for DoctoralGown.com
---
Thank you for visiting doctoralgown.com for your doctoral regalia.
A secure order form for your doctoral regalia (gown, hood, tam) is included below.
You can use this form to order our deluxe doctoral gowns, custom doctoral gowns, faculty doctoral gowns, souvenir doctoral gowns, graduation hoods, and velvet doctoral tams.
If you know exactly what you want and are ready to order, you can skip down to the actual order form on the bottom of the page and then click submit. If you are unsure, please refer back to DoctoralGown.com
If you have any questions whatsoever, please email us or call us.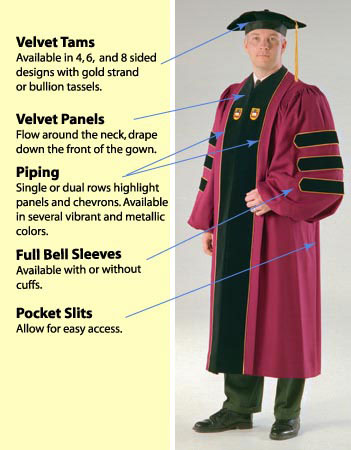 You can either SUBMIT with the above
All information entered will be encrypted and then sent to our secure server for processing

The applet used on this form to encrypt your message has been tested and works with most browsers, including Internet Explorer, Netscape, Firefox and Camino, and Opera.

If you receive an error, then you may need to enable Java or try a different webbrowser; Alternatively you submit your order by telephone or fax, or mail us your order.
or print and FAX IT to us.
or print and MAIL it to us with a check.

SAXON UNIFORM NETWORK, INC.
attn: DoctoralGown.com
234 9th Street
Braddock, PA 15104

Tel: 412-253-4979
Fax: 412-421-2145