There's a very good reason why Saxon Uniform's is the number to call for Formal Wear

Our most popular men's tuxedo pants have an adjustable waist, together with a pleated front.
Because the waist is adjustable, a size 31 tuxedo pant may be comfortably worn by man with a waist size of size 30, 31 or 32.
a size 34 tuxedo pant may be comfortably worn by a size 33, 34 or 35.
and size 37 tux pants, may be used for a 36, 37 or 38 waist.
Purchasing adjustable waist tuxedo pants thus allows you to purchase fewer pants, and still maintain a "unified front", since each pair of pants is designed to comfortably fit 3 different sized people, it is 3 times as easy to find someone else who can wear them if someone orders a wrong size.
Or if you prefer, we have EXACT WAIST formal pants - tuxedo trousers in waist sizes, 28, 30, 32, 34, 36, 38, 40, 42, 44, 46, 48, 50, 52, 54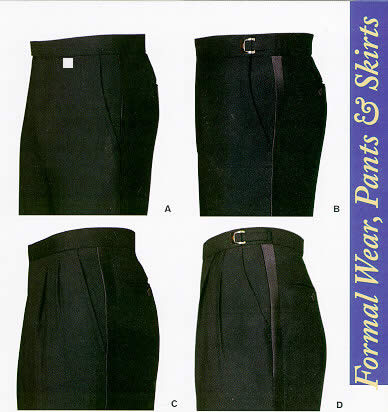 For adjustable tuxedo trousers, order by
Waist size by the Middle Number:

27/28/29 30/31/32 33/34/35 36/37/38 39/40/41
42/43/44 45/46/47 48/49/50 51/52/53 etc.

A) Non-Adjustable, Non Pleated
B) Adjustable Waist, Non Pleated
C) Non-Adjusbable, Pleated
D) Adjustable Waist, Pleated