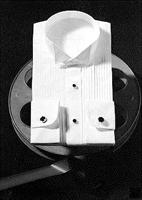 Hospitality Tuxedo Shirt
made from ultra-durable 65/35 poly/cotton known for its wrinkle resistance and long life
convertible barrel cuff
comes complete with removable plastic studs, so that the shirt can be worn with your choice of attached buttons, plastic studs, or with your own fancy studs.
These shirts are sold worldwide to leading hotels, country clubs, and catering personnel and are available in both men's and women's sizes.
Sized for men and women. Price $16.45
Sizing for Hospitality Tuxedo Shirts
Neck sizes 14½ - 22½
Sleeve length
32"-33" (short)
34"-35" (average - tall)
32"-33" (very tall)
Women's sizes 4-24

Select wingtip or laydown collar. Select 1/4 or 1/8-inch pleats.